Klara's Pittsburgh
(circa 1900)
Kennywood started out as a trolley park that catered to industrial workers and their families. Built in 1898 by the Monongahela Street Railway Company (controlled by Andrew Mellon), it was a place where families and young couples went for picnics, rides on the carousel, and a bit of relaxation. Coaster rides were added in the 1910s. (Coasters were much slower back then than they are today, but folks loved them anyway.)
The Strip District was a parcel of land just north of Pittsburgh that served as the city's wholesale produce center from the early twentieth century until the Great Depression. It was close to the Pennsylvania Railroad yards, which made it easy for produce to be delivered from faraway places. (Oranges, anyone?)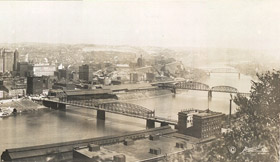 The P&LE (also known as Little Giant) was a railroad that connected Pittsburgh with Youngstown, Ohio. Opened in 1879, the P&LE carried tons (and tons) of coal, coke, ore, iron, limestone, and steel into and out of Pittsburgh's steel mills. The passenger station was a busy meeting place for travelers; it's now a historic landmark in Pittsburgh.
My Pittsburgh
(circa 2009)
Today Kennywood is an amusement park and a National Historic Landmark. Talk to any Pittsburgher and inevitably you'll start to hear "Kennywood stories." Everyone in Pittsburgh goes to Kennywood at least once a summer, and everyone has a story to tell about Noah's Ark, the Racer, or one of the other amazing rides. With three wooden rollercoasters still in its lineup, Kennywood is a favorite of rollercoaster aficionados. (My favorite? The Thunderbolt.)
Today The Strip (as it is commonly called by locals) is the place to go on weekends for breakfast, live music, great coffee, fresh greens, and cool stuff. Industrial buildings and warehouse spaces have been redeveloped into one of the city's liveliest marketplaces and nightspots. (Not to miss? DeLuca's for breakfast, and Primanti's—with coleslaw and French fries on the sandwich—for lunch.)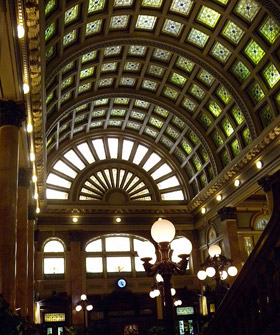 The passenger station of the P&LE Railroad is now home to one of Pittsburgh's finest restaurants, The Grand Concourse. (Gorgeous place!) The restaurant is just one of many in Station Square's 52-acre riverfront complex that also offers a comedy club, shops, and nightclubs.